Confidential documents, jewellery, small high-tech equipment, cash and other valuables... If you have valuable items in your home or business, then you may be considering a safe. In Belgium, the police count 144 burglaries per day on average (figures 2017). So, a safe yes, but you still have to know which one to choose! Safe In Brussels: IPGS helps you to choose the best solution for your specific use.
Most of the time, the owners of a safe are not concerned about its aesthetics. Indeed, they usually hide it in a wall, behind a painting or in a piece of furniture. There are all kinds of models of safes, of different volumes, fireproof or not. Models to be installed (which we strongly advise you to seal on a concrete floor or a load-bearing wall), already available at a modest price. Or built-in safes ideally installed in a wall during construction, preferably by a specialist. And if you have to protect larger objects, you will naturally turn to strong cabinets. Or even - frankly - the vaults. Note that the latter also often serve as a secure shelter for people. The last 2 options are of course more often installed in companies.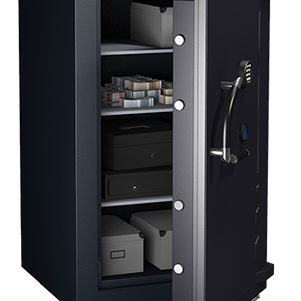 Contact us and take advantage of our solutions
SAFE IN BRUSSELS: STANDARDS AND SPECIFICITIES
In addition to the different models and volumes, you will also have the choice between several locking systems. Classic key lock, or mixed key and disc, or electronic combination, or mixed key and electronic combination, or biometric (fingerprint)... The number of users is often the decisive criterion: an electronic code is easier to share than a set of keys. Finally, whatever formula you choose, also take into account the robustness standards in force. Thus, the standard:
EN 1443-1 deals with the intrinsic strength of materials

EN 1047 certifies fire, thermal shock and drop resistance

A2P indicates the resistance level of this lock in terms of time in case of break-in (5 min, 10 min or 15 min).

EN 1300 validates the resistance of the lock against forced opening

Here again, IPGS specialists will be pleased to guide you.
Write us trough our contact form
STRENGTHEN YOUR SECURITY WITH OUR RANGE OF PRODUCTS