With the increase in burglaries, more and more people are having their buildings equipped with armoured doors. Their specificity? They generally include several horizontal and vertical reinforcements and different layers of insulation, all assembled around a steel plate. In this way, they can offer very high resistance to break-ins and other possible assaults. Their locking system is also based on a multipoint lock, often with 3 to 7 bolts. Finally, if you had any doubts about the aesthetics of the whole, you will love the new collections of decorative panels. From the most classic to the most modern, install your armoured door in Brussels with IPGS Technology.
In addition to armoured doors designed entirely in security mode, there is also a second approach: armouring existing doors. The first ones must be automatically made to measure and installed by professionals. It is necessary to install not only the door, but also its frame. In addition to impact resistance, a reinforced door also improves the sound insulation of your space. And sometimes even its thermal insulation (depending on the layers of integrated insulation). In the case of shielding on an existing leaf, the main concern is to provide the door in place with a reinforced lock to ensure better security. Some argue that this second method is more discreet, but nothing beats maximum security. In addition, you will find lots of different models of armoured doors with the most varied finishes. And some versions will make you completely forget that they are armoured doors.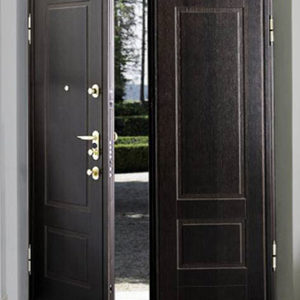 Contact us and take advantage of our solutions
ARMOURED DOOR IN BRUSSELS: HOW TO CHOOSE IT CORRECTLY?
European legislation (UNI ENV 1627) regulates the manufacture of armoured doors and classifies them according to the duration of their resistance to possible attacks (5 min, 10 min, etc.). The class can also vary according to all the options chosen. Because an armoured door can have one or two leaves and can be opened in different ways: with key for cylinder locks, with code for electronic locks, with your fingers for a biometric recognition system... Depending on the structure chosen, your armoured door can also act as a firewall or integrate bullet-proof protection. And this list is of course not exhaustive.
Write us trough our contact form