Nowadays, you know how important it is to protect your building and its contents with an alarm. Deterrent, anti-intrusion device, with video surveillance system... all these more or less sophisticated devices are of course of interest to companies, but also to more and more individuals. Choosing from this wide range is not an easy task. That's why IPGS Security listens carefully to assess your needs and advise you on the best protection strategy. Alarm in Brussels: a compliant and neat installation by IPGS professionals.
THE COMBINATION OF SEVERAL TECHNOLOGIES
When you have an alarm set up, you rely on this system to warn you in the event of a disaster, for example. Or to discourage unwanted visitors, spot them and frighten them in case they commit a break-in. And above all, you want the action plan to be activated in the event of an intrusion. Most alarms include a motion detector and secure your space with an audible signal and/or deterrent lighting. CCTV often reinforces them. As well as the transmitter of calls used to notify the owner, your security company, or if applicable, law enforcement.
There are still many other security technologies such as unmanned aerial vehicle surveillance, license plate tracking, etc. By entrusting us with the protection of your property, you can make your choice based on our complete analysis of your environment. We accompany you step by step. In this way, your installation will integrate the most efficient techniques according to your situation. Our objective: to offer you optimal security in all circumstances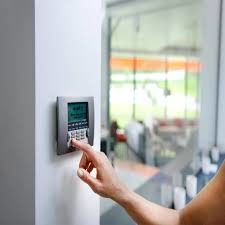 Contact us and take advantage of our solutions
ALARM IN BRUSSELS: GUARANTEE AND INSTALLATION BY PROFESSIONALS
IPGS professional alarm installers benefit from continuous training. In this way, they always remain at the forefront of the latest technologies. In addition, they have all the necessary tools to carry out any repairs (for example after an intrusion). We can also offer you a maintenance plan so that your device is always in perfect working order. And of course you benefit from a 2 to 3 year warranty on all our equipment. Thanks to our alarm system in Brussels, you will finally be able to sleep soundly!
Write us trough our contact form
RENFORCEZ VOTRE SÉCURITÉ GRÂCE À NOTRE PANEL DE PRODUITS